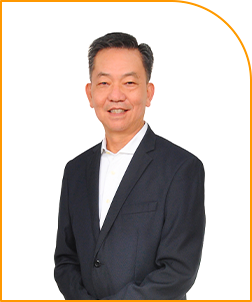 WANG WHEE CHIN


Regional Manager
Tumpuan Megah Development Sdn Bhd

68 years old, Singaporean Male

Qualifications:
In 1972, He obtained his GCE "O" level in Singapore.
Working Experience:
He Began his career in 1976 as a Supervisor with Robin Shipyard (Pte) Ltd, Singapore which he mainly responsible for the supervision of special projects.

He then joined Century Design Pte Ltd as a managing director in 1979, which he was mainly responsible in leading the regional of the company's short and long-term strategy, maintaining awareness of the competitive market landscape, expansion opportunities, industry development, etc. Thereafter, he left Century Design Pte Ltd in 1994 and joined Rowella Construction Pte Ltd in 1995 as a managing partner. Subsequently he further gained 7 years of experience in the bunkering industry, where he was responsible in managing bunker oil business, monitoring the oil market, producing market reports and statistical market information and efficiently liaise with the team on all internal and external developments.

The oil bunkering and oil trading division via Tumpuan Megah Development Sdn Bhd is currently under his direct supervision where he is in-charge of the regional bunker business and activities of the company.

Additional Notes on Key Senior Management:

Joined the Group on 1 May 2019.


No family relationship with any director and/or major shareholder of the Company and has no conflict of interest with the Company.


No convictions for any offences within the past five (5) years and no public sanctions or penalty imposed by relevant regulatory bodies (other than traffic offences) during the financial year ended 31 December 2022.


He does not hold any directorship in public companies or listed corporations.