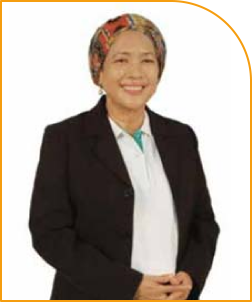 HARISON BINTI YUSOFF
Non-Independent & Non-Executive Director
Date of Appointment: 1 March 2020
Qualifications & Working Experience and Occupation:
Puan Harison obtained her Bachelor of Science with Education (Honours) Degree from University Malaya in 1983. In order to equip herself better in the corporate world, she obtained her Diploma in Public Relations in 1995 from International Correspondence Schools.
In 2011, she completed her Master in Managerial Psychology from HELP University. She started her career as a secondary school teacher in government schools before joining the private sector in 1993.
Subsequently, for the next five (5) years, Puan Harison served in several companies, as a PR and Communications practitioner with Silicon Communications, Mahir Events and Yaohan Berhad. In 1998, she joined Petrosains Discovery Centre, a subsidiary of PETRONAS, as Head of Public Relations. She helped develop standard processes and procedures for communication, issue management and crisis preparedness.
In 2006, Puan Harison was seconded to the PETRONAS Corporate Affairs Department to handle corporate social responsibility programmes ("CSR") and stakeholder management. Appointed as a team leader for the flasgship CSR programme called "Program Bakti Pendidikan PETRONAS", she was responsible for strategising and implementing the programme, groupwide. She succeeded in taking the programme to greater heights and managed to recruit and develop over 600 volunteers.
From 2008 to 2012, Puan Harison was assigned as Learning Manager with the PETRONAS Leadership Centre. During the four (4) year tenure in the Centre, she was involved in several high profile talent pipeline development programmes, like the Global Mindset for Leaders programme in collaboration with the US-based Thunderbird School of Global Management and Building Leaders Programme ("BLP"). BLP uses an innovative approach in identifying critical skills for future leaders through EQ assessment and intervention to bridge the skill gaps and address competency issues.
Board Committees(s) served on:
None

Length of service as Director since the last appointment up to 18 May 2021:
2 years

Family Relationship with any Director and/or Major Shareholder of the Company:
None

Disclosure of Conflict of Interests with the Company:
None

Conviction for Offences within the past 5 years and any Public Sanction or Penalty imposed by relevant regulatory bodies (other than Traffic Offences) during the financial year end:
None

Present Directorship(s) in other Public/Listed Companies:
She does not hold any directorship in other public companies and listed companies.

Number of Board Meetings Attended from 1 January 2020 to 31 December 2020:
She attended seven (7) out of eight (8) Board meetings held since her appointment.