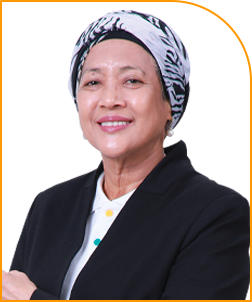 HARISON BINTI YUSOFF
Non-Independent & Non-Executive Director
Date of Appointment: 1 March 2020
Mr. Leong Fook Heng, male aged 62, was appointed as an Independent & Non-Executive Director of the Company on 17 August 2015.


Length Of Service (As At 31 March 2023):
3 years

Date of Last Re-election:
32 June 2020

Acedemic/Professional Qualification/Membership(s) and Working Experience:
Puan Harison obtained her Master in Managerial Psychology from HELP University in 2011. Prior to that she completed her Bachelor of Science with Education (Honours), University Malaya in 1983. In order to equip herself better in the corporate world, she obtained her Diploma in Public Relations in 1995 from International Correspondence Schools Learning Centre, Glasgow. Subsequently, for the next five (5) years, Puan Harison served in several companies, as a PR and Communications practitioner with Silicon Communications, Mahir Events and Yaohan Berhad.
In 1998, she joined Petrosains Discovery Centre, a subsidiary of PETRONAS, as Head of Public Relations. As a key employee from its inception, Puan Harison was involved in developing standard processes and procedures for communication, issue management and crisis preparedness.
From 2006 to 2008, Puan Harison served at the PETRONAS Corporate Affairs Department and her role involved enhancing corporate reputation through stakeholder management and corporate social responsibility ("CSR") programmes. As team leader for the flagship CSR programme called "Program Bakti Pendidikan PETRONAS", Puan Harison was responsible for the implementation of the programme, which included recruiting and developing over 600 volunteers to run the programme. She also collaborated with schools to conduct language workshops and camps to build English competencies among teachers during the critical period where science and mathematics were taught in English.
From 2008 to 2012, Puan Harison was assigned as Learning Manager with the PETRONAS Leadership Centre. During her tenure at the PETRONAS Leadership Centre, Puan Harison was active in designing, developing and delivering programmes in areas of Business Communication, Leadership, Emotional Intelligence as well as Creativity & Innovation. She was involved in several high profile talent pipeline development programmes, like the Global Mindset for Leaders programme in collaboration with the US-based Thunderbird School of Global Management and Building Leaders Programme (BLP).
Several years after retirement, Puan Harison focused more into writing courses - training and coaching PETRONAS staff, locally as well as internationally to improve their skills in business writing, ranging from emails to reports, proposals, concept papers, minutes of meeting, board papers, handbooks, and such.
Puan Harison herself is a writer, having authored articles for local and international publication which included: DIMENSION, a New York-based publication for The Association of Science & Technology Centers or ASTC (2003 & 2005), case studies in The Thunderbird School of Business - Global Mindset for Leaders Case Book (2012) and a PETRONAS Lubricant business case study: Navigating a Fragmented Lubricant Market Place for PETRONAS Leadership Workshops (2014). Puan Harison also wrote several articles and proofread a 145- page Impact Study Report for MIGHT (2020-2022).

Membership On The Board Committee:
• Chairman of the Audit Committee
• Member of the Nomination & Remuneration Committee
• Member of the Board Risk & Compliance Committee

Family Relationship With Any Director And/Or Major Shareholder:
None

Conflict of Interest:
None

Conviction for offences within the past 5 years and any public sanction or penalty imposed by relevant regulatory bodies (other than traffic offences) during the financial year ended 31 December 2022:
None

Present Directorship(s) in Other Public/Listed Corporations:
None

Attendance at Board Meetings:
The details of attendance at Board Meetings during the financial year ended 31 December 2022 are disclosed in the Corporate Governance Overview Statement on pages 49 to 50 of the Annual Report.