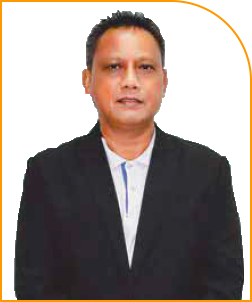 IDJAL BIN TAHIR


Chief Executive Officer
Megah Port Management Sdn Bhd
54 years old, Malaysian Male

Qualifications:
He obtained the Malaysian Examination Certificate in 1988.
Working Experience:
He has approximately 30 years of experience in the general cargo and container operations in the Labuan port. He commenced his career in 1990 with Standard Marine Agencies Sdn Bhd as Shipping Clerk who responsible to oversees and keeps records of all shipping and receiving. He left Standard Marine Agencies Sdn Bhd in 1993 and joined Mercury Line Sdn Bhd as Shipping Assistant which he was mainly responsible to process incoming and outgoing shipments.

In 1999 he was appointed as a Director and Operation Manager in Sailion Shipping Sdn Bhd where he was responsible for various tasks such as packaging, verifying content for shipping, receiving packages, ordering supplies, leading and managing staff.

The port management division via Megah Port Management Sdn Bhd is currently under his direct supervision where he is in charge of the implementation of business operations activities in Labuan Port and ensuring the company's policies meet Labuan Port Authority's regulations.

Additional Notes on Key Senior Management:

Joined the Group on 25 February 2020.


No family relationship with any director and/or major shareholder of the Company and has no conflict of interest with the Company.


No convictions for any offences within the past five (5) years and no public sanctions or penalty imposed by relevant regulatory bodies (other than traffic offences) during the financial year ended 31 December 2022.


He does not hold any directorship in public companies or listed corporations.