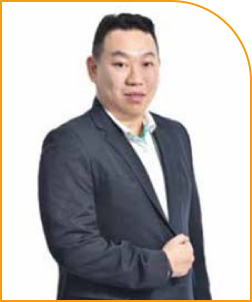 CAPTAIN TONY TAN HAN (CHEN HAN)
Executive Director
Date of Appointment: 24 March 2015
Captain Tony was appointed to the Board as an Independent & Non-Executive Director on 24 March 2015 and subsequently re-designated as Executive Director on 12 January 2017.

Qualifications & Working Experience and Occupation:
He obtained his Master of Science (Maritime Studies) from Nanyang Technological University Singapore in 2018 and Diploma in Nautical Studies from Singapore Polytechnics in 1999. In 2009, he obtained a Specialist Diploma in Workplace Safety and Health from Ngee Ann Polytechnics. Captain Tony has a Certificate of Competency ("COC") Class 1 Master Mariner (foreign-going) issued by the Maritime and Port Authority of Singapore.
He started his career as a Marine Superintendent / Senior Marketing Executive with EZRA Marine Services Pte Ltd in 2007 where he was responsible to ensure smooth implementation of the Safety and Environmental Management System on all the fleet vessels.
Subsequently, he joined Hako Offshore Pte Ltd in 2010 as a Senior Safety Manager/ Designated Person Ashore where he was tasked to manage and implement the Safety Management System throughout the organisation and for the fleet vessels, addressing deficiencies pertaining to manning requirement and training, conducting internal audits and participating in the emergency response team and ensuring that adequate resources and shore-based support are applied as required.
He established Skips Marine Services in Singapore in 2012 and was the Managing Director where he oversees the business and contractual obligation to the company's clients and implementation of safety standards. Captain Tony is well versed in the maritime industry and has over 20 years of professional marine experience in both sea-going and shore-based operations which include container, tanker, oil and gas, offshore fleet and ship management,ship operations and marine safety operations.
He was also involved in audit, incident investigation as well as implementation of International Safety Management ("ISM") appointments. Captain Tony is in charge of the Group's vessel management and maintenance business segment. He is also responsible for formulating strategies to secure oil-related product supplies and building a customer base.
The ship management services division via Straits Marine Services Pte Ltd is also currently under the direct supervision of Captain Tony, where he is responsible to oversee and ensure the Vessels owned by the Group are well maintained and the cost of maintenance and management is kept at a very competitive level.
Board Committees(s) served on:
None

Length of service as Director since the last appointment up to 18 May 2021:
7 years

Family Relationship with any Director and/or Major Shareholder of the Company:
None

Disclosure of Conflict of Interests with the Company:
None

Conviction for Offences within the past 5 years and any Public Sanction or Penalty imposed by relevant regulatory bodies (other than Traffic Offences) during the financial year end:
None

Present Directorship(s) in other Public/Listed Companies:
He does not hold any directorship in other public companies and listed companies.

Number of Board Meetings Attended from 1 January 2020 to 31 December 2020:
He attended all ten (10) Board meetings held in the financial year ended 31 December 2020.

Shareholdings in the Company:
His shareholdings are disclosed in page 153 of the Annual Report.