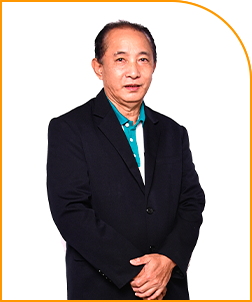 BENJAMIN BERNARD BIJION


Chief Executive Officer
Victoria STS (Labuan) Sdn Bhd
63 years old, Malaysian Male

Qualifications:
He attended his First Mate Foreign-Going Ship Post Sea Course at Malaysia Maritime Academy, Malacca in 1986 and qualified with Certificate of Competency issued by Malaysia Marine Department. In year 1989, attended a three (3) months Advance Aviation & Maritime Search and Rescue Course conducted by Civil Aviation Department, Subang Airport College. In year 2000, attended a one (1) month comprehensive Marine Surveyor's Course as per International Maritime Organization Module at Malaysia Maritime Academy, Malacca. In year 2001, attended a six (6) months Advance Marine Surveyor and Ship Engineering Course at JICA Training Centre in Yokohama, Japan
Working Experience:
He started his career as a Cadet Marine Officer with Port & Harbours Department, Sabah State Government in 1979 and attached with Mercantile Harbour Office in Labuan Port. Subsequently he served as cadetship onboard M.V. Lautan Rani with Lautan Biru Shipping Sdn. Bhd. In 1980 for approximately 3 years before he served as second Mate onboard M.V. Gaya Dua managed by Malaysian International Shipping Corporation Berhad in 1985. In 1987, he served onboard as Chief Mate onboard M.V. Mulpha Taiping managed by Pacific Carriers Limited.

In 1989, he joined the Federal Service as a Marine Officer with Sabah Marine Department in charge of Maritime Safety and Navigation Division. In 2000, he has been promoted as Senior Marine Officer in charge of Marine Engineering and Survey Division. Subsequently in 2002, promoted as Marine Director with Sabah Marine Department based in Kota Kinabalu, Sabah.

Thereafter he joined Malaysia Marine Department in 2007 and continue serving as Marine Director in Kota Kinabalu, Sabah until 2008. Then transferred back to Labuan Federal Territory as Regional Marine Director in year 2009 until retirement in 2020.

In April 2021, he joined Victoria STS (Labuan) Sdn Bhd where he is responsible for any matters related to all government agency and to ensure compliance with all requirements as stated in the policy approved by Ministry of Transport and also to ensure compliance with all requirements stated in the Condition of Approval from Malaysia Marine Department.

Additional Notes on Key Senior Management:

Joined the Group on 1 of April 2021.


No family relationship with any director and / or major shareholder of the Company and has no conflict of interest with the Company.


No convictions for any offences and no public sanctions by any regulatory bodies during the financial year ended 31 December 2021


He does not hold any directorship in other public companies and listed corporations.