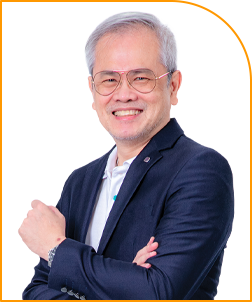 HO KHIN CHOY


Chief Executive Officer
Straits CommNet Solutions Sdn Bhd
54 years old, Malaysian Male

Qualifications:
Obtained his Bachelor of Science Degree in Electrical Engineering minoring in Telecommunication and Computer Engineering from the University of Louisiana (formerly known as University of Southwestern Louisiana), Lafayette Louisiana, United States of America, in December 1990.
Working Experience:
In 1991, he began his telecommunication career as a Microwave Transmission Field Test Engineer in ALCATEL, Standard Elektrik Lorenz AG, where he was involved in installing and testing Telekom Malaysia Berhad's main trunk transmission link. He then moved on to be part of the first- generation mobile networks (ETACS and AMPS) doing network testing and optimisation until 1993. From 1993 to 2000, he joined several companies as a project engineer and project manager where he was involved in cellular/ wireless network planning, network deployment, testing and commissioning, as well as network consulting.

Thereafter, he pursued a career in network consulting and business development. In 2000 to 2003, he was the regional operation manager in Logica (Malaysia) Sdn Bhd, whereby he played a leading role in managing the division, growing the engineering and consultancy business and resources for the Asia-Pacific (APAC) region. Subsequently in 2004 to 2008, he was the senior solution consultant and product manager in Nokia Networks (Malaysia) Sdn Bhd, in which he was involved in creating and improving and selling network planning and optimisation services as well as the analysis of operation processes, the advantages and disadvantages of the processes affecting services and a subject matter expert in network design and service management platform services solutions, creating business opportunities for the managed services portfolio.

From 2010 to 2012, he re-joined Nokia Siemen Network (Malaysia) Sdn Bhd as the Head of solution consulting for the APAC region. From 2012 to 2014, he joined Ascom Network Testing (Malaysia) Sdn Bhd as the Sales Director. He was subsequently appointed as the Regional Sales Director for Aptilo Networks Sdn Bhd from 2014 to 2016. In 2016, he joined Kathrein APAC Pte Ltd as the Sales and Solutions Consulting Director for the SEA region. From 2018 to 2021, he has been the Senior Solution Architect and Head of In-building Solutions ("IBS") of Edotco Malaysia Sdn Bhd, a subsidiary of Edotco Group Sdn Bhd. During this period, he initiated amongst others, business strategies, technical solutions and products for mobile network neutral hosting infrastructure setups.

He was appointed as the Chief Executive Officer of Straits CommNet Solutions Sdn Bhd after joining on 3 February 2022 where he is responsible for the overall management, operations, and business development of the Telecommunication and Network Services Business.

Additional Notes on Key Senior Management:

Joined the Group on 3 February 2022.


He is the brother of Dato' Sri Ho Kam Choy, the Group Managing Director and major shareholder of the Company.


No convictions for any offences within the past five (5) years and no public sanctions or penalty imposed by relevant regulatory bodies (other than traffic offences) during the financial year ended 31 December 2022.


He does not hold any directorship in public companies or listed corporations.