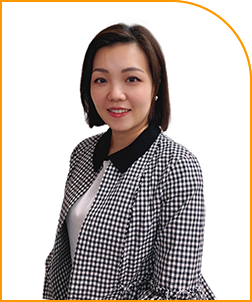 DATIN NG FONG SHIANG
Independent & Non-Executive Director
Date of Appointment: 17 August 2022
Datin Ng Fong Shiang, female aged 43, was appointed as an Independent & Non-Executive Director of the Company on 17 August 2022.

Qualifications & Working Experience and Occupation:
Datin Ng obtained her Bachelor of Degree in Economics from University Science Malaysia (USM) in 2002. She started her career with Hong Leong Bank Berhad as Senior Executive for a period of 5 years and later as Branch Manager of Shah Alam branch in 2008.
She subsequently joined RHB Capital Berhad as Senior Project Manager, Transformation Office in 2009 for two years and RHB Bank Berhad as Section Head, Acquisition Management & Monitoring, Business Banking Group in 2011 for 3 years.
From 2014 to 2016, she was a Financial Consultant where she provided financial advisory services to companies in the construction and property development industry. She is currently attached as a Chief Financial Officer with Perfect Channel Sdn Bhd, a steel manufacturing company since 2017.